Freebies for Pregnancy and Babies
OK, so it is totally worth it, but research shows that new parents can spend as much as £8,100 just in baby's first year!
That is a lot of pennies!! Well, don't panic yet – there are many ways to save money on baby essentials online with our freebies for pregnancy and babies. Free samples, coupons and many other online deals are there to help.
If you or someone you know is having a baby, you might want to rush out and buy cute clothes and toys (I did!). Yes, these things are important but it is actually the necessities that most parents would love support with. Therefore, if you want to give new parents a more practical gift, find as many free samples or coupons as you can. That way you can present them with a huge hamper with all kinds of essential baby products!
If you're looking for free stuff from WFS, here are some useful sites that you should check out:
Free Pregnancy Advice For Every Stage
Here, you will get advise tailored to every step of pregnancy. There is also one to one support from the care-line, a pregnancy diary that will come in handy and also a cuddly cow. You will find the best companion in C&G during your pregnancy journey. Whether you're doing it alone or with your partner, you can always rely on C&G for your pregnancy needs.
Expert Pregnancy Advice From Aptaclub
You need to start laying the foundation for your baby's future today. Here, you will find the best email advice for every stage of your pregnancy and care-line support around the clock. Aptaclub should help you make the best decisions for every step of your pregnancy journey.
Free Heinz Baby Club Pack
After signing up, you will receive coupons and samples in a welcome pack. Additionally, they will provide you with more coupons as your baby develops.
Free Johnson's Baby Coupons
Sign up on Johnson's Caring Everyday Site to get £22 worth of coupons. It is one of the best coupon sites for new parents. Bookmark the link and refresh it frequently to find out if there are any new updates on the coupons. Check the full list of coupons available on the site to make sure you're saving money at every stage.
Free Huggies Pull Ups & Coupons
Most parents admit that their kids love the pull-ups when they are potty-training. Sign up on the site and choose the best pull ups for boys or girls and receive free coupons in the same pack. There are also some free potty training charts available to help you through the whole process.
Free Pampers Dry Nights And Coupons
Potty training might take longer than expected and there might be some accidents along the way. Well, you could use some dry-nights around this time. Sign up to the site and receive free coupons and samples for those tough days and nights.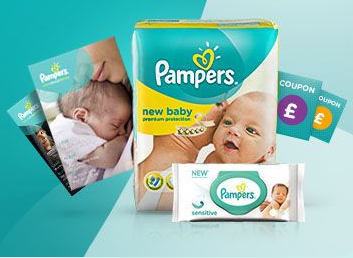 Don't know someone having a baby? You could always give these coupons & samples to women and children in the local women's shelter. I often put Sophie's leftover jars or nappies she has grown out of into the food bank at our local supermarket 🙂
This is a sponsored post: freebies for pregnancy and babies.